AEM Authorized Online Dealer Verification Program
To participate in AEM's Authorized Online Dealer Verification Program just place one of our logos on your website and link it to our verification page. If your business is an authorized AEM Induction System dealer and your website is registered in our system properly, your customers will get validation that you are an AEM Factory Authorized Dealer. Contact
AEM's customer service department
to make sure your website is properly registered with us or place our logo and link on your website and test the link to see if you are already set up. Many AEM online dealers are already set up and simply need to place the logo and link on their site to get started. Choose one of the logos below and link it to https://www.aemintakes.com/verify. The logos are transparent gif files that can be used with any background.
INSTRUCTIONS FOR AUTHORIZED DEALERS
STEP 1 - Place one of the logos on your website.
Link the badge to: https://www.aemintakes.com/verify/
STEP 2 - Go to the web page and click on the logo. If the launched webpage says your site is authorized then you are done. If not contact us and we'll get your web site linked to your account in our system.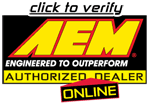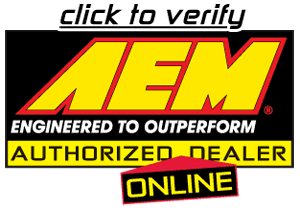 Sample screenshot of AEM authorized online dealer verification.